In my latest
Sex-Kitten
column I wrote about my New Year's Resolution of living a greener lifestyle, even greening my sex life.
So for Valentine's Day I plan to be a Green Goddess. At least I was hoping to be. I've searched for sexy eco-lingerie here in the US but so far have not found much of anything. In the UK I found
Enamore
, very, very sexy but shipping all the way from the UK may not be very green, all those carbon emissions and all.
I've looked for vintage lingerie but yikes I wasn't planning on spending that much.
Slip of a Girl
has some very nice stuff for sale in her store but I think I'll have to save up to buy any of it, you know struggling writer equals being half broke most of the time.
There are lots of other ways to green up my sex life though. EdenFantasys.com has some organic oils, phthalate free sex toys including glass, stainless steel and wood. I also bought some rechargable batteries for those toys that need them.
If you would like to shop from Eden Fantasys use code 7KQ to get 15% off your order.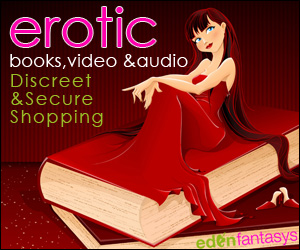 XXXglass
also has some way cool glass toys.
Soy and Beeswax candles are next on my list. There are plenty of those to choose from. They'll cast a nice romantic glow all around the room.
Maybe I'll drop some hints for the hubby to buy me organic chocolate or organic flowers from
Organic Bouquet
, if not I'll just buy them myself.
Anyway I'm sure we'll have a wonderfully green Valentine's Day. I think I may buy some new organic cotton or bamboo sheets for the bed. They'd be great to snuggle in after all the fun, sexy stuff.